Know more about Kannada & Karnataka
Karnataka Flag
The Kannada flag, a strip of yellow and red, symbolises both Kannada and Karnataka, although it doesn't have any official status and it isn't recognized as a state flag by the Government of India.[1] Based on ancient Kannada, people believe the yellow and red colours in the flag stand for Arashina (Turmeric) and Kumkuma (Vermilion). These two substances signify auspiciousness and well-being in Karnataka and among Kannada people across. It is hoisted every year by the Chief Minister of Karnataka on Karnataka Rajyotsava (November 1).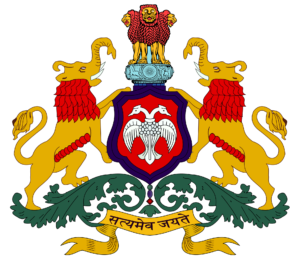 Emblem of Karnataka
The state emblem has a red shield charged with a white two-headed bird, Gandabherunda bordered in blue. The crest depicts the Lion Capital of Ashoka (also used as the emblem of the Government of India), on a blue circular abacus with a blue frieze carrying sculptures in high relief of a galloping horse on the left, a Dharmachakra in centre, a bull on the right, and the outlines of Dharmachakras on the extreme left and right as part of Sarnath's Ashoka Pillar.
Karnataka Rajyotsava
Karnataka Rajyotsava, also known as Karnataka State Day, is a state public holiday and celebrated on 1 November of every year. This was the day in 1956 when all the Kannada language-speaking regions of south western India were merged to form the state of Karnataka.[3] The Rajyotsava day is listed as a government holiday in the state of Karnataka[4] and is celebrated by Kannadigas across the world.[1] It is marked by the announcement and presentation of the honours list for Rajyotsava Awards by the Government of Karnataka, hoisting of the official Karnataka flag with an address from the Chief Minister and Governor[5] of the state along with community festivals, orchestra, Kannada book releases and concerts.[6]
Famous Individuals of Kannada
Where is Kannada Association of Canberra ?